GP60A - 125KHZ
Please contact us for additional information and re seller pricing
Introduction
GP60A is a powerful extended range proximity RFID reader featuring small dimensions and a read range of up to 60 cm . This RFID reader will run from any voltage from 5 to 13.5 Vdc and making it particularly suited to access control ,car parking and through-wall reading applications .The same basic unit can be configured to output most of the common interface formats ,including Wiegand , Mag-stripe and RS-232 serial ASCII output, RS485, making it easy to upgrade the existing installations.
Features 
*   With Auto-tuning function.
*   With a relay
*   The reading distance can be up to 60 cm
*   Small outline 
*   Long read rang 
*   Wide voltage range  
*   Externally programmable interface  
*   Potted for environmental protection 
*   Weather resistant 

Specifications
Power Requirements:5~13.5 volt regulated DC,350 mA . A linear 12 volt regulator is best used ,but the unit will work with a wide variety of supplied 
Interface: 
RS-232:Serial ASCII , 9600 ,N,8,1 
RS485
Wiegand:26 bits 
Magstripe: ISO ,ABA TK2 emulation 
Read Rang: up to 60 cm at 13.5 Vdc with ISO card in ideal conditions 
Frequency: 125KHz ,ASK 
Format: 64 bits ,Manchester coding 
Transponder: Read only 
Chip type : EM H4001/4002 compatible 
ID code : 10 digits in Hex 
125 KHz ,ASK 
64 bits ,Manchester coding 
Rate timing : MOD 64 (64 clocks per bit) 
Audio/ Visual Indication : Internal LED and Buzzer  
External buzzer control also available  
Dimensions: W210*H210*D35 mm   
Temperature Range :-10 to 60 Deg. C 

Note: The Specification is subject to change without notice.
Application
Access Controls 
Car parking systems  
Through-wall Reading Applications 
Any Long Range Reading  Applications  

Available versions 
GP60A-00 : 4 in 1 interface 

AVAILABLE TRANSPONDERS:
CFR01 -- 86*55*0.8 MM ISO card 
CFR03 -- 86*55*2 MM Badge card 
TAG52 -- Disc with diameter 52 mm ,8 mm thickness 
TAG40 -- Disc with diameter 40 mm ,5 mm thickness 
TAG35 -- Disc with diameter 35 mm , 4.5 mm thickness 
TAG25K -- key Tag , 31*41*5 mm 

Remark

Application Example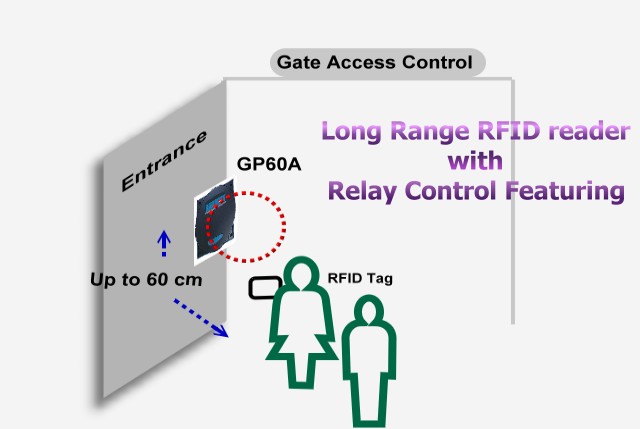 Stock:

In Stock

Model:

GP60A